FAQs

[above: Isaac Fanous, icon of Athanasius, c. 1980 © copyright, used by permission]
Why does CH do theme-based issues?
Our first three issues were published as companions to films and naturally focused on the subjects of the films they accompanied. Beginning with issue #4 on Zwingli, the editors decided to publish the magazine quarterly and to continue focusing on a single person, movement, or era of church history for each issue.
Occasionally during the last 40 years, an issue of CH has contained a few departments or sidebars that dealt with historical events, people, and objects outside the theme, but currently—as at the beginning—each issue focuses on only one theme.
Where does CH get its articles?
Normally, we commission articles from scholars who are experts in a given issue's theme, identified in our issue planning meetings. We also keep a list of people who have written in expressing their desire to write for us, noting their background and areas of expertise, and we consult this list before every issue. (So, if you want to write for CH, email us and get on the list!) Finally, we have a small roster of journalists with a background and/or interest in church history and often turn to them for articles.
The one thing we don't do in the magazine is publish manuscripts that are sent to us without prior negotiation. We do occasionally ask people who send in unsolicited manuscripts to turn them into posts for our blog.
Why don't you use footnotes?
As a popular magazine aimed at a lay audience, we've always kept the footnotes off the final page, though our scholars often provide them in drafts. We trust our authors to present up-to-date, accurate information and to handle their sources discerningly. Each issue's scholar-advisor oversees the whole process and provides an important cross-check of content. In our Recommended Resources pages, we list sources used and commended by our scholars along with others we've become aware of through our study.
Does CH have a denominational affiliation or A theological approach?
Our current mission statement, re­present­ative of statements throughout our history, is:
Christian History Institute seeks to bring the story of the church to the people of the church, to see the best in every Christian tradition, and to acknowledge the full and honest story of the church universal.
Our only faith statement is the Apostles' Creed. We do not require authors or issue advisors to subscribe to a faith statement (though many are Christians), but we ask them to write respectfully for a Christian audience.
Do you have sponsored issues?
We do accept contributions of up to 50 percent of the cost of any given issue from charitable foundations and other nonprofits. We retain editorial control in any contracts. You can always tell if an issue has a sponsor because we will thank them in the editor's letter. We also accept help from libraries and archives, who sometimes work with us to provide images at lower costs in exchange for copies of the issue to distribute.
Why do you have so many images?
We don't always have as many images as in this issue, but (as you can read in our editors' letters) Ken Curtis felt convicted from the beginning that we should use "ample" illustrative material. Images can tell us what our brothers and sisters in the past looked like, how their churches were built, what they wore, what they kept in their homes, what they ate, and so much more. In addition we can see how people of different eras interpreted historical events through the way they chose to paint, draw, sculpt, engrave, and even embroider them.
How many people are on your team?
We have 12 people on our team, some full-time and some part-time; they cover duties that include editing, writing, making layouts, fitting text in layouts, proofreading, selecting and acquiring images, and maintaining our mailing list. Since issue #133 we've been doing a "meet the staff" feature on our Letters to the Editor page to introduce you to our team and our journalism interns. Check it out! CH
By the editors
[Christian History originally published this article in Christian History Issue #144 in 2022]
Next articles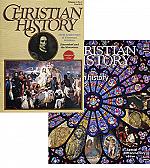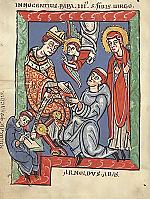 Show more
Subscribe to magazine
Subscription to Christian History magazine is on a donation basis
Subscribe
Support us
Christian History Institute (CHI) is a non-profit Pennsylvania corporation founded in 1982. Your donations support the continuation of this ministry
Donate